Main content starts here, tab to start navigating
BBQ Sauces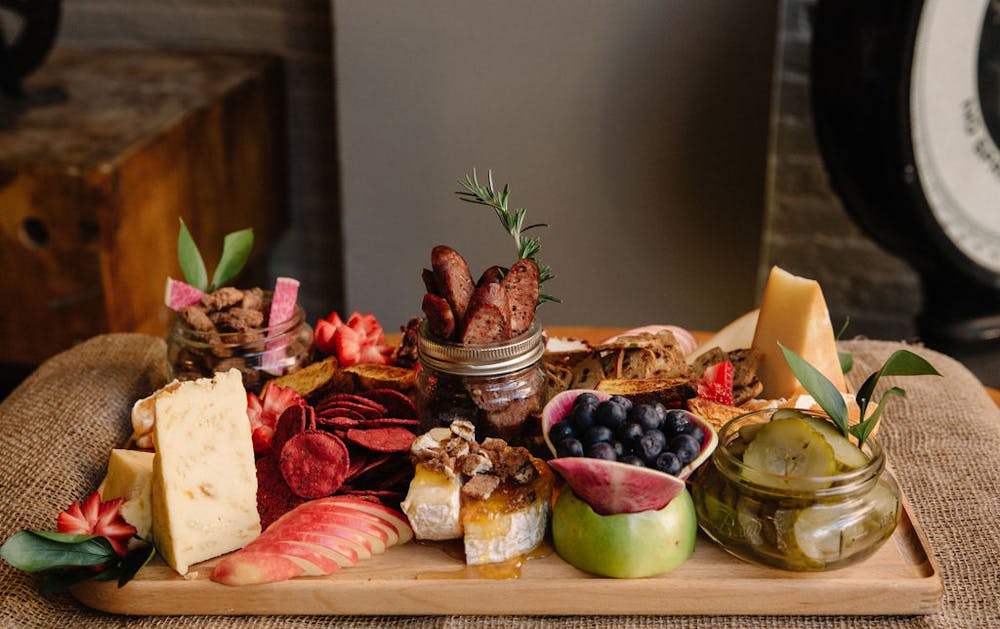 Traditional Texas Dipping

Our most popular, made with meat drippings! We toss our chopped brisket and pulled chicken in this!

Spicy Q

Traditional Texas dipping with Franks! Yee-Haw!

Memmaw's Molasses

Our sweetest sauce, named after our grandmother Wilson.

North Carolina Bbq

A spicy vinegar based no cook sauce! We toss our pulled pork in this!
Appetizers
Minimum 2 dozen, 48 hour notice
Smoked Chopped Brisket, Pimento Cheese on A Bbq Chip

$28 per dozen

gluten free, soy free

Grilled Shrimp & Pineapple with a Spicy Bbq Dipping Sauce

$30 per dozen

dairy free, gluten free, soy free

Mini Queso Mac & Cheese Bites

$27 per dozen

soy free, vegetarian

Smoked Turkey, Smoked Tomato Jam and Cheddar Cheese on A Mini Cornbread (NGF)

$27 per dozen

soy free

Texas Hot Links & Grilled Pineapple with a Spicy Bbq Dipping Sauce

$27 per dozen

gluten free, soy free

Mini Filled Cornbread Muffins (NGF)

Pulled pork, caramelized onions & bacon

Chopped brisket, cheddar & jalapeños

Portobello mushrooms, goat cheese & smoked tomato jam (vegetarian)

$27 per dozen

soy free

Cornbread Crostini (NGF)

Whipped goat cheese & sweet corn relish (vegetarian)

Dry rub brisket and tomato jam

Honey whipped goat cheese and apricot preserves with fresh mint (vegetarian)

$28 per dozen

soy free

Smoked Shrimp Wrapped with Prosciutto

With a lemon rub aioli

$32 per dozen

soy free

Pickled Crudité with Beet Hummus

In individual cups

$28 per dozen

gluten free, soy free, vegetarian
Platters
Cheese and Texas Hot Links

With pickled vegetables and crackers

30 person min. $7.50 per person

Cowboy Caviar

Served with our homemade tortilla chips, tomatoes, black eyed peas, black beans, sweet corn, red onion, green & red bell peppers and cilantro, tossed in a spicy vinaigrette

(Serves 10) $35

soy free, vegetarian

Add Guacamole $15

Fresh Tortilla Chips

With homemade guacamole & Shed's pico de gallo

(Serves 10) $40

dairy free, soy free, vegetarian
Sides & Chips
Sides
½ pan (serves 8-10) $29 | Add Sandwich Rolls .50/pp (NGF)
Hot
BBQ Baked Beans

dairy free, vegetarian

Collard Greens

dairy free, gluten free, soy free

Fried Pickles with Ranch

soy free

Queso Mac & Cheese

soy free, vegetarian

Seasonal Specials
Cold
Black Eyed Pea Salad

dairy free, gluten free, soy free, vegetarian

Creamy Coleslaw

soy free, vegetarian

Potato Salad

soy free, vegetarian

Red Slaw

gluten free, vegetarian

Roasted Corn Salad

dairy free, gluten free, soy free, vegetarian

Seasonal Specials
Cilantro Lime Rice

gluten free, soy free, vegetarian

Jicama Slaw

Jicama, red cabbage, red onions, fresh cilantro tossed in a citrus vinaigrette

dairy free, gluten free, soy free, vegetarian

Matchstick Vegetables

Carrots, red & yellow peppers, red onions, yellow squash and zucchini with olive oil, salt and pepper

dairy free, gluten free, soy free, vegetarian

Roasted Sweet Potatoes

Cinnamon chipotle butter glaze

soy free, vegetarian

Roasted Tomato Jam Potatoes

Shaved parmesan & parsley

soy free, vegetarian

Royal Rice

Jasmine rice, brown rice, red & white quinoa

gluten free, soy free, vegetarian

Seasonal Roasted Vegetables

With olive oil, salt and pepper

dairy free, gluten free, soy free, vegetarian

Smoked Couscous

Couscous, roasted corn, black beans, scallions, red pepper, pickled red onions, cilantro. Tossed in a citrus white balsamic

dairy free, soy free, vegetarian
Chips
Homemade Potato Chips & Pimento Cheese

(serves 10) $25
Salads
Served with cornbread (NGF) & whipped honey butter Choice of 2 dressings: Balsamic Vinaigrette, Lemon Vinaigrette, or Ranch
Shed's Salad

Organic lemony rocket blend greens, grape tomatoes, roasted corn, green apples and cornbread croutons (NGF).

Sm (4-7) $25

Med (8-12) $50

Lg (20-25) $75

dairy free, soy free

Agave Fruit Salad

Seasonal fresh chopped fruit with an agave drizzle and fresh mint

Sm (8-12) $35

Lg (15-20) $70

dairy free, gluten free, soy free, vegetarian

Bbq Chopped Salad

Veggie power blend, roasted corn, red cabbage, roasted pepitas and sesame seeds. tossed in Texas BBQ Ranch dressing

Sm (4-7) $28

Med (8-12) $55

Lg (20-25) $80

vegetarian

Orange & Pecan Praline Salad

Organic mixed greens, goat cheese, pecan pralines, oranges & cranberries

Sm (4-7) $28

Med (8-12) $55

Lg (20-25) $80

soy free, vegetarian

Smoked Couscous

Couscous, roasted corn, black beans, scallions, red pepper, pickled red onions, cilantro. tossed in a citrus white balsamic dressing

Sm (4-7) $25

Med (8-12) $50

Lg (20-25) $75

dairy free, soy free, vegetarian
Sammy's Sandwiches
All natural meats, Texas hot links are made locally
Handcrafted Sandwich Platters
Served with homemade potato chips & pimento cheese $12/ea (min. order of 8)
The Denton (Edward's College Town)

BBQ chicken with jalapeño jack, mango salsa and Texas dipping sauce on our homemade caramelized onion & chive roll

soy free

The Fort Worth (Shawn & Edward's Birth Place)

Chopped brisket with pimento cheese on our homemade caramelized onion & chive roll

soy free

The Garland (Mom's Hometown)

Smoked chicken salad with crisp green apples, dried cranberries, chile rub aioli, organic mixed greens and tomatoes on our homemade parsley scallion roll

soy free

The Itasca (dad's Hometown)

Smoked ham with cheddar cheese, organic mixed greens, tomatoes and honey mustard on our homemade cheddar roll

soy free

The College Station (Shawn's College Town)

Smoked chicken breast with tomato jam, cheddar cheese and organic mixed greens on our homemade parsley scallion roll

soy free

The Dallas (Home of Edward's Favorite Football Team)

Smoked turkey with smoked cheddar, organic mixed greens, tomatoes and cranberry mayo on our homemade cranberry orange roll

soy free

Shed's Smokey Club

All natural smoked chicken breast, smoked ham, cheddar cheese, organic mixed greens, tomatoes and chipotle mayo on our homemade bacon cinnamon chipotle roll

soy free

The San Antonio (Shawn and Edward's Hometown)

Chopped brisket with sliced hot links, cheddar cheese and Texas dipping on our homemade cheddar jalapeño roll

soy free

The Marfa

Smoked tofu, smoked tomato jam, aged cheddar, organic mixed greens on our caramelized onion & chive roll

vegetarian

Gluten free rolls available

gluten free
Lucille's Bowls
Build Your Own | Small (Serves 7) $100, Medium (Serves 12) $170, Large (Serves 20) $280 | Choose Two Base Options
Cold
Organic Lemony Rocket Blend

dairy free, gluten free, soy free

Super Food with Rainbow Kale

dairy free, gluten free, soy free
Hot
Creamy Queso Mac & Cheese

soy free

Red +white Quinoa + Brown Rice

dairy free, gluten free, soy free
Choose 2 Protein Options
Sliced Brisket

Add $1.50 per person

Smoked Turkey

dairy free, gluten free, soy free

Smoked Texas Hot Links

dairy free, gluten free, soy free

Pulled Pork

Tossed in our NC Sauce

dairy free, gluten free, soy free

Pulled Chicken

Tossed in our Texas dipping sauce

dairy free, gluten free, soy free

Chopped Brisket

Tossed in our Texas dipping sauce

dairy free, gluten free, soy free

BBQ Smoked Chicken Breast

With Texas dipping sauce

dairy free, gluten free, soy free

Smoked Tofu

dairy free, gluten free, vegetarian

Smoked Portobello Mushrooms

dairy free, gluten free, soy free, vegetarian
Toppings Included
Pickled Jalapeños

dairy free, gluten free, soy free, vegetarian

Spicy Pepitas

Scallions

dairy free, gluten free, soy free, vegetarian
Add 3 Toppings
Oven Roasted Grape Tomatoes

dairy free, gluten free, soy free, vegetarian

Edamame

dairy free, gluten free, vegetarian

Sliced Green Apples

dairy free, gluten free, soy free, vegetarian

Smoked Bacon

dairy free, gluten free, soy free

Cornbread Croutons (NGF)

soy free

Seasonal Specials
Add 1 Shredded Cheese
Pepper Jack

gluten free, soy free, vegetarian

Aged Cheddar

gluten free, soy free, vegetarian
Dressings
Balsamic Vinaigrette

dairy free, gluten free

Lemon Vinaigrette

dairy free

Texas Dipping BBQ Sauce

dairy free, gluten free

Served with Cornbread (NGF) & Whipped Honey Butter
Meat Platters
All Natural Meats, Texas Hot Links Are Made Locally
Choices:
Sliced Brisket

Add $1.50 per person

dairy free, gluten free, soy free

Smoked Turkey

dairy free, gluten free, soy free

Pulled Pork

dairy free, gluten free, soy free

St. Louis Style Ribs

dairy free, gluten free, soy free

Pulled Chicken

dairy free, gluten free, soy free

Chopped Brisket

dairy free, gluten free, soy free

Texas Hot Links

dairy free

Smoked ½ Chicken

dairy free, gluten free, soy free

BBQ Smoked Chicken Breast

With Texas dipping sauce

dairy free, gluten free, soy free

Smoked Tofu

dairy free, gluten free, vegetarian

Smoked Portobello Mushrooms

dairy free, gluten free, soy free, vegetarian
Served with 2 Sides, Cornbread & Whipped Honey Butter
Choice of 1 Meat

Small $100

Medium $170

Large $280

Choice of 2 Meats

Small $120

Medium $200

Large $340

Choice of 3 Meats

Small $140

Medium $240

Large $400

Small (Serves 7)

Medium (Serves 12)

Large (Serves 20)
Entrees
All natural meats, Texas hot links are made locally | Served with two sides a homemade cornbread (NGF) & honey butter Small $100 (Serves 10), Large $200 (Serves 20), Salmon Small $130 (Serves 10), Salmon Large $260 (Serves 20)
Smoked Rubbed Pork Loin

With golden Carolina BBQ sauce

dairy free

Smoked Rubbed Chicken Breast

With a caramelized pineapple BBQ sauce

dairy free, gluten free, soy free

Smoked ½ Chicken

dairy free, gluten free, soy free

Smoked Tofu

dairy free, gluten free

Smoked Salmon

With a citrus brown sugar rub

dairy free, gluten free, soy free
Interactive Bars
Bbq Taco Bar

Chopped brisket, pulled chicken, pulled pork, grilled flour tortillas, corn taco shells, homemade guacamole, queso fresco, pickled red onions, shredded cheddar, Shed's pico de gallo, roasted corn, shredded lettuce, sour cream

Sm (4-7) $100

Med (8-12) $170

Lg (15-20) $280

Frito Pie Bar

Fritos, homemade brisket & pork chili with cheddar cheese, scallions & jalapeños

(serves 10) $60

Chili Bar

Homemade brisket & pork chili, white chicken chili and three bean vegetarian chili served with freshly cooked tortilla chips, Shed's guacamole, cheddar cheese, diced onions and jalapeños

(serves 10) $100

Texas Taters Bar

Large roasted potatoes with olive oil and salt. Regular & sweet

minimum 48 hour notice $10 per person
Proteins
BBQ Chicken

Pulled Pork

Roasted Portobello

Mushrooms

Brisket Chili
Toppings
Bacon

Caramelized Onions

Jalapeños

Roasted Corn

Scallions

Sour Cream
Build Your Own Sliders

BBQ chopped brisket, BBQ pulled chicken and BBQ pulled pork, slider rolls, homemade pickles & onions, Texas dipping & spicy BBQ sauce, sidewinder fries with chipotle ketchup

minimum 10 $14 per person

Boylan's Ice Cream Floats

Gifford's vanilla ice cream with your choice of Boylan's sodas. Black cherry, cola, cream soda, orange and rootbeer

minimum 20 (each) $6
Desserts
Cookies & Brownies

Sm (8-10) $30

Lg (15-20) $60

tree nut, vegetarian

Seasonal Cobbler

½ tray (10-12) $40

vegetarian

Add ice cream $1

Lulu's Rum Cake

(serves 12)

$40

tree nut, dairy free, vegetarian

Seasonal Bread Pudding

½ tray (10-12) $40

vegetarian
Beverages
Texas Sweet Tea

½ gallon $5

gallon $10

Texas Tea

½ gallon $5

gallon $10

Boylan's Bottled Beverages

$2.75

Poland Spring Seltzer Water

$2.25

Poland Spring Water

$2.25
Mardi Gras
Appetizers
2 dozen minimum
Gumbo "Dip" with Crostini Breads

Serves 10

$40

Cajun Popcorn Shrimp with Kickin' Bayou

Double dozen (24) $27

Grilled Hot Links Skewers

With tri-color peppers and onions with boom boom dipping sauce

$27 per dozen
Sliders
$4 each, 2 dozen minimum
Texas Hot Links

With pimento cheese on our potato roll

Cajun Shrimp Po'boys and Red Cabbage Slaw

With kickin' bayou sauce on a brioche

Portobello Mushrooms

With roasted grape tomatoes, aged cheddar, organic lemony rocket blend greens and chipotle mayo on a brioche
Entrees
Small (4-7) $47 | Medium (8-12) $80 Large (15-20) $120
Jambalaya

Served with our collard greens & cornbread with whipped honey butter

Cajun Smoked Chicken Breast–red Beans

Served with rice, collard greens and our homemade cornbread with whipped honey butter
Fish Fridays
Available 2/26-4/9
Smoked Salmon with Black and White Sesame Seeds

With a smoked apple cream sauce. Served with shed's salad (organic lemony rocket blend greens, roasted grape tomatoes, roasted corn, green apples and cornbread croutons) roasted sweet potatoes and our homemade cornbread

Small (7-10) $150

Large (15-20) $300

Smoked Portobello Mushroom Caps

Served with shed's salad (organic lemony rocket blend greens, roasted grape tomatoes, roasted corn, green apples, and cornbread croutons), roasted vegetables, roasted sweet potatoes, and our homemade cornbread

Small (7-10) $150

Large (15-20) $300
Desserts
Caramel Bread Pudding

With bourbon sauce

Small (10) $25

Large (20) $50

Mardi Gras Bugs

Our family's favorite! Milk chocolate, butterscotch, peanuts, chow mein noodles with colorful sprinkles

Small (10) $20

Large (20) $40